This is the text of the post.
This is line two.
We at St. Francis Health Services of Morris take caring for your loved ones very seriously.
In response to coronavirus (COVID-19) we have aggressively implemented prevention and preparedness activities in all of our care centers (nursing homes, assisted livings, and group homes).
These interventions are intended to address the risk for our residents and employees from contracting and spreading the COVID-19. We continue to follow guidelines provided to us by the Centers for Disease Control and Prevention (CDC), the Centers for Medicare and Medicaid Services (CMS), and our local and state health agencies.
Visitor Restrictions:
Restricting all visitors effective immediately, with the exception of compassionate care. Essential visits are determined and evaluated case-by-case.
Restricting all volunteers and non-essential health care personnel. Some volunteers have been assigned to screening tasks and limited to entry.
Infection Control Practices
We are monitoring our residents for signs and symptoms of respiratory infection and will work with our providers if someone becomes symptomatic.
We are following the guidelines of quarantine when a resident is newly admitted, been out of the care center, or been exposed to individuals at risk.
We have limited essential entrance to the building to one location.
We are actively monitoring and screening all employees/contractors upon entry into each of the care centers.
We have cancelled all group activities including communal dining.
We are practicing social distancing within each of our care centers.
We ask all deliveries be left at the care center identified door exterior entrance.
Status of COVID-19 Monitoring
We continue to monitor for updates, changes, and recommendations on a daily basis from all legitimate sources.
We have a designated team that is reviewing and updating infection prevention practices and emergency preparedness activities.
We are in contact with our local and state health department and emergency preparedness contacts.
We will continue to update residents, families, and this website as new information becomes available.
Trusted Resources for Official Updates:
Centers for Disease Control and Prevention (CDC): https://www.cdc.gov/coronavirus/2019-ncov/index.html
Centers for Medicare & Medicaid Services (CMS): https://www.cms.gov/newsroom/press-releases/cms-announces-new-measures-protect-nursing-home-residents-covid-19
Minnesota Department of Health: https://www.health.state.mn.us/diseases/coronavirus/index.html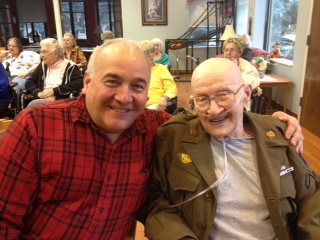 Trinity Care Center has entered into a contract with the Minneapolis Veterans Health Administration.
The VHA contracts with a select group of nursing homes for service on behalf of its veterans. Currently, there are 63 nursing homes in the Minneapolis Veterans Administration Health Care System coverage area with VHA contracts. VHA will pay for nursing home care if the veteran meets eligibility criteria which include service connected status.
Service connected status refers to the relationship of a veteran's disability due to military service.
Elizabeth Letich, Trinity Campus administrator had been looking for ways to provide long term care services to veterans and this contract has proved beneficial for local veterans.
"Trinity is proud to be able to provide care to the men and women who served, putting their lives on the line to protect ours," Letich said.
Questions regarding eligibility for long term care services with Trinity can be directed to Trinity's social worker, Robin Bisel at 651-460-1155. Trinity Care Center is located at 3410 213th Street and is part of the St. Francis Health System.
Trinity recognizes all veterans we provide services to throughout the year.  Upon admission, residents are asked if they are a former veteran.  If resident is a former veteran we honor and recognize them by posting a veteran's plaque outside the resident's room.
---